Sustainable Solutions for Every Industry
Whether your business is oil and gas, mining, landfills, power plants, food services, wastewater treatment, farm and ranching, turnkey solutions, to name just a few - E3 is your solution.
We provide a variety of "plug-and-play" solutions designed to your specific requirements.
E3's efficiently designed technology can keep your daily operational costs to as low as $4.00.
Our systems are resistant to heavy metals, salts, corrosion, and other harmful chemicals commonly present in wastewater. The lifespan of our technology, coupled with the ability to minimize the waste footprint within a wastewater body helps to optimize your operations while minimizing damaging effects to the environment.
E3 returns only pure water particles back to the atmosphere, allowing heavier waste particulates to fall back into the wastewater footprint. This ensures that harmful pollution does not enter the atmosphere, while simultaneously minimizing the overall carbon footprint, enhancing your wastewater management strategy.
How it Works
E3 came up with a simple solution to a complex problem. Our Varimax and MegaMist Systems utilize rotation mechanics and centrifugal force to fracture water into a micron-sized droplet mist (that's nearly 39 millionths of an inch), which helps optimize the evaporation results for any wastewater disposal project. Each of our evaporator models is manufactured with energy-efficient atomizers and hubs controlled from a UL-certified control panel designed to maximize evaporation rates in changing weather conditions.
Pumped wastewater is distributed among the atomizers and hubs for atomization into the necessary 70 to 120 micron-droplet size that maximizes evaporation. Real-time wind data is detected by the control panel's anemometer to adjust the atomization droplet size. This effectively evaporates pure water vapor back into the hydrologic cycle while separating the impurities, all within your footprint area. This level of precision in droplet size adjustment is only achieved with E3's patented evaporators. Our expert team customizes each unit of equipment to your actual operational weather and wind conditions.
Getting to the Facts
According to the University of Michigan's Center for Sustainable Systems, "53% of river and stream miles, 71% of lake acres, 80% of estuarine square miles, and 98% of Great Lakes shoreline miles have been classified as impaired (unacceptable for at least one designated use) by the EPA." This issue highlights the critical need for wastewater solutions that preserve our environment from harmful pollutants.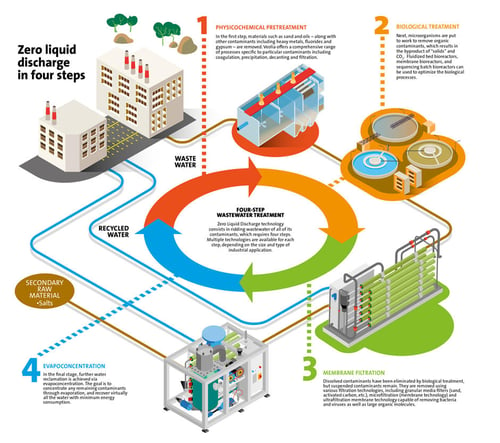 Returning only pure water vapor back into the atmosphere assists in cooling the immediate environment, creating clean clouds and reducing environmental temperatures; ensuring cleaner air surrounding the wastewater footprint. In fact, Carnegie's Global Ecology Department concludes that "evaporated water helps cool the earth as a whole, not just the local area of evaporation, demonstrating that evaporation of water could have a cooling effect on the entire atmosphere" (Carnegie Science, 2011). Forced evaporation of pure water vapor from wastewater bodies creates this additional source for cooling the environment. Realizing this, more and more companies are integrating sustainable initiatives like E3's into their business strategies.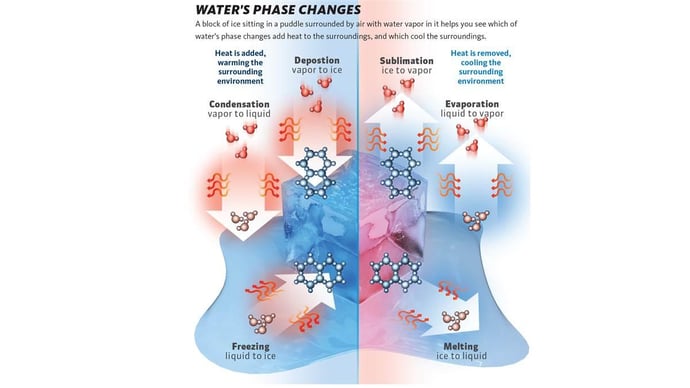 Charles Floyd; The AMS Weather Book, re-created with permission of the American Meteorological Society
To inquire how you can also take full economic and environmental advantage of E3's wastewater solutions, please click the "Contact Us" link below.